Multi Color / Part Christmas Tree Vase versions and additional parts for 2022. STL's are on this site, Source Files (FreeCAD), and more parts will be posted on my personal website with just a click to download, no requirements/login to get files.
**Still making and verifying additional add-ons and Christmas models that will be part of this set
• I'm printing with a 0.8mm nozzle with 1mm parameter lines. 1mm lines allow higher angles up to 35deg.
• No Supports. Just bridges.
• Working on making multi-part to work. But having some issues slicing (CAD) parts apart.
• Have additional parts that I will add to this post once I'm done and have printed my myself.
• I currently do not have a multi-material printer right now to test in that way.
• Included some draft versions STL's in case you like those or want different versions available on my website.
• Vase version has ornaments on trees placed so Vase printing will work (still multi-part).
• True Multi-part (coming soon) will have ornaments popping more out of the tree, and with additional add-ons, this version will not print in Vase mode.
• Size of Trees are 107mm and 190mm tall. (35 deg. for tree level overhangs, 45 deg minimum angle for tree sides.)
•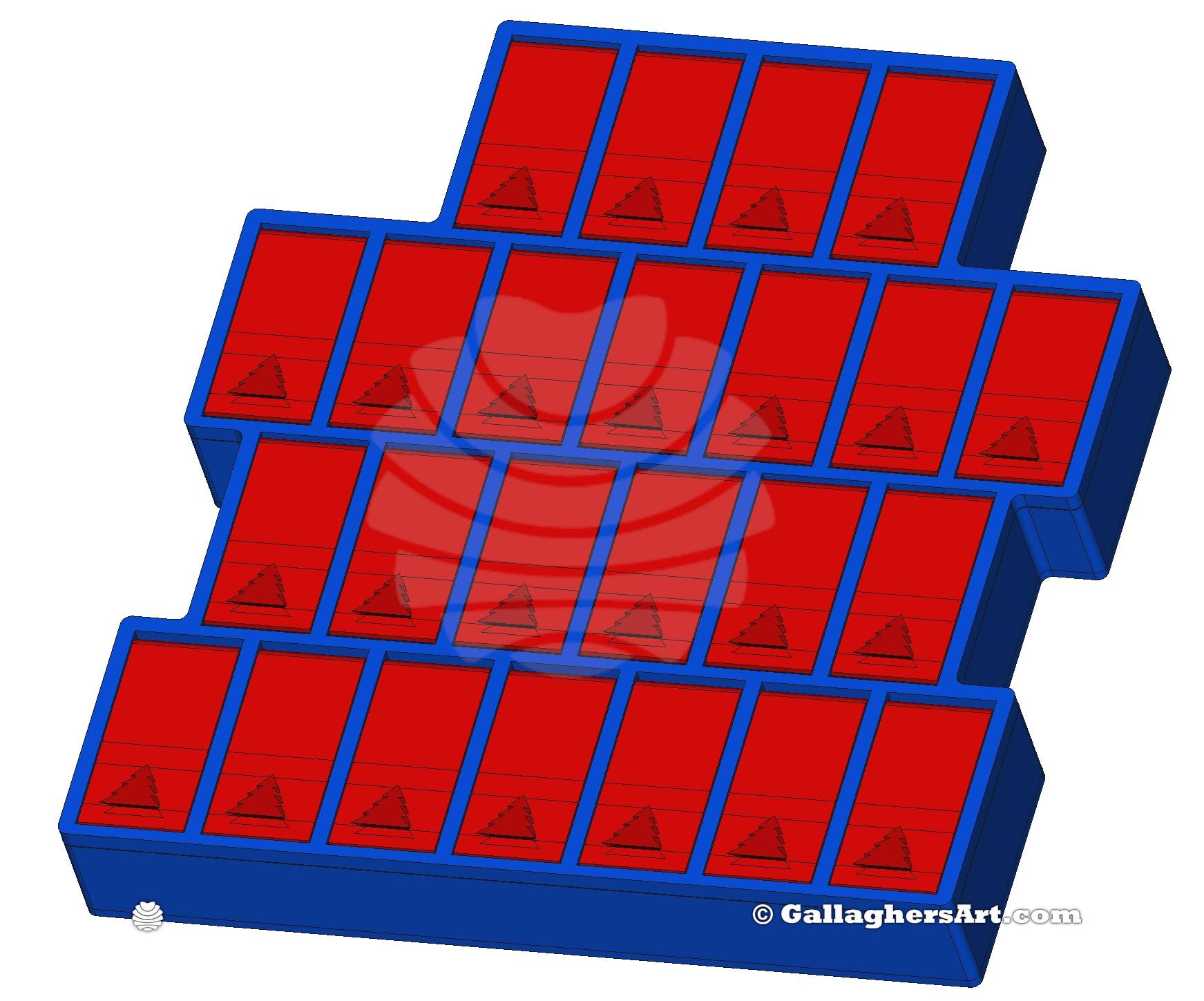 Print in Place / Load / Seal, 24 Box Advent Calendar (Parametric FreeCAD)
2022 Advent Calendar with 24 boxes currently large enough for 1 LEGO Minifig in each box.
Multi-part / color if you wish, I use a bridge layer for support of the doors as they print. Just enough space between the case and doors to allow a razor to be used to cut the bridge layer (use of razor at your own risk, children should not cut doors open. It's not hard to do, just take your time and be careful, after the bridge layer is easily cut the doors can be opened from the bottom. And closed again. A small ledge surrounds the interior of the box to keep a razor for cutting into items within)
I have included a single box to test your print. (All in one, or doors and box sides as different parts)
Pause print before the bridge layer and load up non-melting prizes* into each box before resuming. (*Print is hot while printing so chocolate will melt before the print is done).
The current STL's supplied will fit most LEGO minifigs and some small parts. You can place the plate and figure within each box but not as a display would have all the parts attached.
My source FreeCAD files are available on my personal website for free and just a click with no requirements to get the files needed to make this your own. I have a spreadsheet to configure the Parametric FreeCAD file. Change the size of the boxes easily. The current max module size is around 232mm x @200mm
See the picture on how the bridge layer should look, Use as little "bridge skin density" as possible. Basically as little bridge as possible while allowing doors to be printed. This is the layer that will get cut with a razor to open
Enjoy!
`mike