I have been working on several different types of additive and subtractive systems. SO far only making them to the CAD designs. Due to current world issues I'm just posting them to share.
I would love to find funding to get these designs built and tested. My main goal was a server stack like system.
·
Up to 10 systems stacked on top of each other using same foot space.
·
All wires, filament, laser and such would be access from the sides of units.
·
Modular system for varying uses and heights.
·
Large 500mm x 500mm additive build plate, with 3 Z axes.
·
All motors outside of chamber (currently only one of the Z axis motors is within chamber)
·
Front and back of unit will be separated by air tight walls, (Front of system is used for main access, back will be heated to 40c and will be air intake for printers, Air outtake from each chamber to a series of air filters then exit building(
·
FDM Filament will be on back of units and pre heated.
·
Large laser modules will be on back of printers.
·
All most all motors and electrical will be on the front of the printers at a cooler temperature than chambers and rear of systems.
·
A 3x remote drive dual gear (8mm larger) extruder.
·
Large corporation rack of printers, systems with modules from 1-6 FDM nozzles, 1-2 high power laser, 1-6 low power engraver lasers, Basic CNC per bay. With up to 8 bays per rack
·
Image with 0_5-30R2 within image is my goal for the hot end. Shown 6 into 1 nozzle, water cold, Spring plate above mixing chamber will connect to solenoid to change size of mixing chamber when retraction is needed – no pulling filament back from hotend,
Spec's
Modular system for various corexy and cnc motion system. Below items can be placed in a bay on the rack, each bay can be of different heights.
·
1-2 Hight power Laser cutter
·
1-6 FDM Nozzles
·
1-6 Low power laser engravers
·
Light CNC CoreXY
·
Med CNC with rails and ball screws
Options
Dual front screens (1x touch, 1 LCD with status)
One Rear touch screen
1-3x cameras
500+mm x 500+mm FDM workspace
FDM bays in images is 360mm on the Z axis per pay with 200mm of printable Z height.
All cables and filaments are side loaded to hotend. Front links are for water cooler, and electronics. Back will be for Filaments rolls and Power system for High power Laser.
3x Z axis rails with ball screw
2x 15mm rails for Y axis, 2x 15mm rails for X axis.
Belt reduction for all motors
Entire hot bed easy in and out, along with magnetic plates.
Pooled Filament groups, 6 into 1 hot end can have multiple groups of like typed filaments. And when one of the filaments in a group runs out system will alert staff and just switch to another spool of filament in groups until new rolls are put into place.
Cool space in front of system, closed off from back of unit. The space behind or the back of the system will be temp controlled room for maximum printing.
3 into 1 using Chinese Worm gears 1.0 20 tooth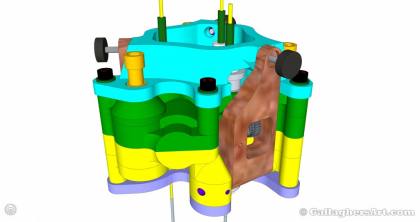 Due to COVID19 I never received the worm gears ordered in November, Posting source files and such for reference.
This would use 3 worm sets for my 3 into 1 3D printer.
Custom 05 30R2 Worm Gears and similar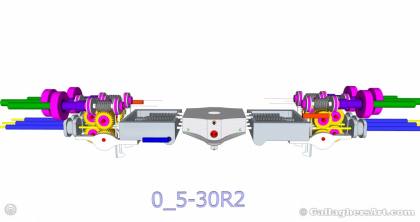 Working to shrink the size of the unit while using larger gear hobs for the filament movement I designed these to use a single piece for filament and Worm Gears. Was talking with production site across the globe and all seem to agree this would work.